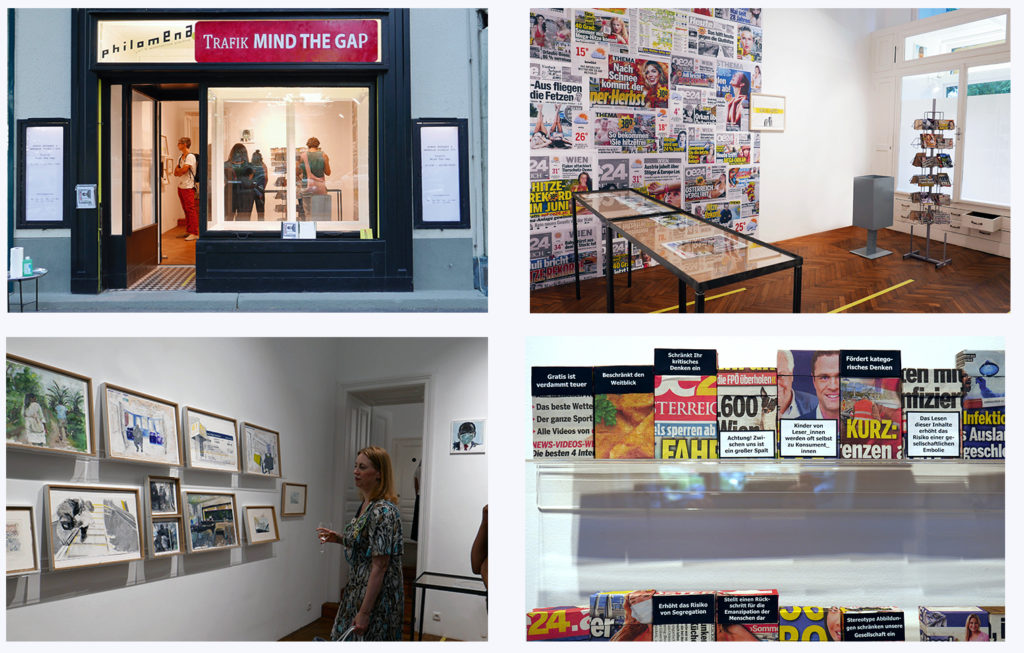 Tabacco Shop MIND THE GAP
collaborativ project with Sanae Arraqas, curated by Christine Bruckbauer at philomena+ art & architecture platform, artist talk moderated by Janine Maria Schneider
In the state of emergency, social, political and economic life is restricted to a minimum. All stores serving basic needs are open – including tobacconists. The Tobacconist MIND THE GAP uses the concept of a tobacconist's store to reveal consumption and life in time of crisis, which will be reduced to "basic needs". Cigarettes, raffles, signposts, postcards, stamps, newspapers and other goods are apparently considered as life-sustaining goods. Dependence on certain standards is apparently to be maintained. But where is the art to question this. Who recognizes the need for this vital "commodity" in a time of alienation? In the exhibition the cover of a tobacconist's shop makes it possible to make visible structures that influence our everyday life and increase the distance between people. At the same time, measures of distance are followed that promote increasing alienation. Because our society is pervaded by a gap that spreads like a virus and is also carried on by the media.
MIND THE GAP refers to the announcement of the same name in public transportation to draw attention to the gap. A gap between platform and vehicle, a distance between us humans within a space, a distance between each other, a gap between us that could grow increasingly.
The paintings on canvases or framed, prints on the wall and some postcards in the Tobacco Shop MIND THE GAP are by the artist Sanae Arraqas. The Illustration of the invitation card was a collaboration between the two artist: Mind The Gap II, 2020, mixed media, 128 x 210 cm
Weather, 2020, vlis wallpaper, 250 x 300 cm
Post cards #1 – #100, 2020, wooden cards, each 10,5 x 15 cm
Newspaper-Trash-Box, 2018, metall, 40 x 30 x 85 cm
Hole-Newspaper, 2018, stacked, 13 x 18 cm
Cigarette Packets #1 – #100, 2020, each 8,6 or 10,3 x 5,5 x 2,2 cm
Mind The Gap painted concept #1 – #2, 2020, watercolour paintings, 29 x 21 cm