Genital wallpapers, ceramic excrements and today's fly-swatters: to Manuela Picallo Gil's artistic practice
Manuela Picallo Gil's works of recent years are divided into two thematic group media criticism as well as body, gender and sexuality.
It also does not save tragic content. In the installations hay in the peg heap and 8,000 or that's all she deals with the cruel practice of female genital mutilation (female genital mutilation, short: FGM) apart. Thousands of pins are piled on the ground in a heap or pinned into the wall. The pinheads symbolize the result of a type of FGM as they are analogous to the small opening left in the vulva to allow painful intercourse and painful urination. The latter visualizes Picallo Gil with small yellow droplets in teardrop form. The fragile organic hay, on the other hand, is a symbol of the uncircumcised girls and women who are stigmatized in many societies – and often are few.
Like FGM, primary genitalia, orgasms, and sexuality are generally taboos that are often talked about only in private. Because of this silence, it is also difficult in Europe to claim the right to one's own body and one's own sexuality openly and directly – also because these issues are negated in their earliest childhood. Cuddly toys leave the factories sexless and consistently cling to various sexual orientations and gender diversity, as in Disney films, thus depicting only heteronormat. This is what Picallo Gil refers to in Faded Out, reminiscent of the classic introductory movements of animated cartoons. Once upon a time there is a big assumption … and invites viewers to take a merry-go-round of plush and soft sheep with sewn-in genitalia, After, nipples, etc. to lay.
For the collaborative work with bug blanket One snapshot via orgasm, Picallo Gil and bugblanket asked friends and acquaintances to use the trigger on the phone's camera during orgasm to take a snapshot of their surroundings. Creating a picture at the moment of sexual climax can be seen as a parallel to Aura Rosenberg's Head Shots (1991 – 1996), in which the German-American artist photographed the faces of men during orgasm. However, Picallo Gil and bug blanket (collective BA/NU) are not like Voyeur Rosenberg, but it is the unrepresentatives themselves who produce the recordings. These show blurred spaces, black areas and images of colored nuances, which are presented in a poetic arrangement as a sensitive celebration of the sexual climax and thus define this as a human moment. The photographic clinging in One Snapshot … the so-called little death, as well as the head shots, an eternal, whereby questions about sexuality, intimacy and (un) visibility are raised. [1]
The genital graphics in Ex Libris also have an art historical reference. One characteristic of book ownership marks is the use of symbols that are also used in Picallo Gil's work, together with jarring written connotations, such as Emerald Penes or Clitoria Ternatea. Just like the traditional ex libris can only be found in closed books, sex parts are not publicly visible. In order to bring this into the discourse, she transfers the hidden symbols from the closed book to the drawing presented behind glass.
Taboo body parts are also the content of black on white – Decoration: None (BA / NU). On a white paper wallpaper are in all-over manner black vulvae, penises, testes and other diverse genitalia. The repeated depictions on the seemingly decorative genitalia wallpaper seem to emphasize that they are natural parts of the body that everyone possesses. In addition, the depiction of abstract sex organs, which also point to intersex – and that many people neither the male nor the female gender concept correspond. Thus, the question arises as to whether the duality accepted as a norm is not a narrow-minded and exclusive one. Also diverse deals with this topic. Several wooden blocks are installed on one surface. On one cube emblazoned a black ♀, on another ein. These symbols are, according to the theory of the semiotic triangle, forms that refer to the concepts male and female. Their speakers, on the other hand, present the people as men and women with their seemingly unambiguous gender classifications. [2] The remaining wood cubes have no symbols – that the biological sex does not necessarily have to be identical with the social gender. This means that gender cannot be simply categorized into either – or? So Picallo Gil seems to ask if there are enough signs for the many gender diversity.
A linguistic play is also the background of One and Three … A brown chair is placed with the backrest to the viewer in front of a photograph showing ceramic excrement. The title does not only refer to the ambiguity of the word chair, but also to Plato's thesis of idea and thing. [3] Likewise, a connection to the semiotic triangle could be made. The phonetic image of the chair suggests both human excretion and seating. Already René Magritte demonstrated with Ceci ne'est pas une pipe (1929) that the image of an object is not identical to it. Just as you can not smoke Magritte's pipe, you can sit on Picallo Gil's chair or smell the stench of the feces. [4] It is only possible to visualize the symbol and its meaning, but not to make the reference object physically accessible. This fact and the polysemy of the word chair are recurring thoughts throughout the chair series. The rocking chair is depicted as excrement on a swing, the armchair set up in rooms (room seating) with clay faeces distributed on the floor and the human evacuation is visualized by means of miniature armchairs in the toilet bowl.
This is also part of the installation Daily Drug # 2. On the wall behind the toilet numerous toilet paper rolls are attached, which are manufactured from the free newspapers today and Austria. Both sheets tend to spread exaggerated, fabricated and distorted information, inflammatory content and are full of sexism and lumpsizing. [5]
Nevertheless, thousands of people use the fake news contained in it on a daily basis, adding to the envy and lack of empathy that shape the current social climate. The so-called refugee debate is just one example. Just as drugs can destroy bodies, these leaves poison their living together. That's why Picallo Gil's 30 Days Challenge: How to use Today / Austria in a smart way suggests thirty ways to handle these papers the smartest way. You can not only use them for the toilet, but put them crumpled in your ear as a hearing protection, kill them with insects or fold them into paper planes.
This humorous awareness of problems and social taboos is the dominant feature of Picallo Gil's multi-media, emblematic works that often include linguistic puns and art historical references. In her artistic practice she deals with a variety of topics, seeming to be more provocative and direct in her media-critical works than in the empathic-subtle installations in which she deals with body, sexuality and gender images.
Agnes Rameder
Vienna, 2018
[1] Zu Aura Rosenberg: Aura Rosenberg / Gary Indiana / Lynne Tillman (Hrsg.), Head Shots, Reykjavik 1995.
[2] Zur Theorie des semiotischen Dreiecks: Ralf Pöhrings / Ulrich Schmitz (Hrsg.), Sprache und Sprachwissenschaft. Eine kognitiv orientierte Einführung, Tübingen 1999, S. 30 – 34.
[3] Zu Platon: Volker Steenblock (Hg.), Philosophisches Lesebuch. Von den Vorsokratikern bis heute, Stuttgart 2013, S. 44 – 55.
[4] Zu Magritte: Claudia Stauble / Stefanie Adam (Hrsg.), 100 Meisterwerke,die Sie kennen sollten, München u.A. 2013, S. 248 – 249.
[5] Die Sektion 8 der SPÖ hat sich mit dieser Thematik intensiv auseinandergesetzt und unternahm sogar den Versuch, die Gratiszeitungen ganz verbieten zu lassen. Siehe dazu auch: http://blog.sektionacht.at/2017/04/7134/ [17.09.2018].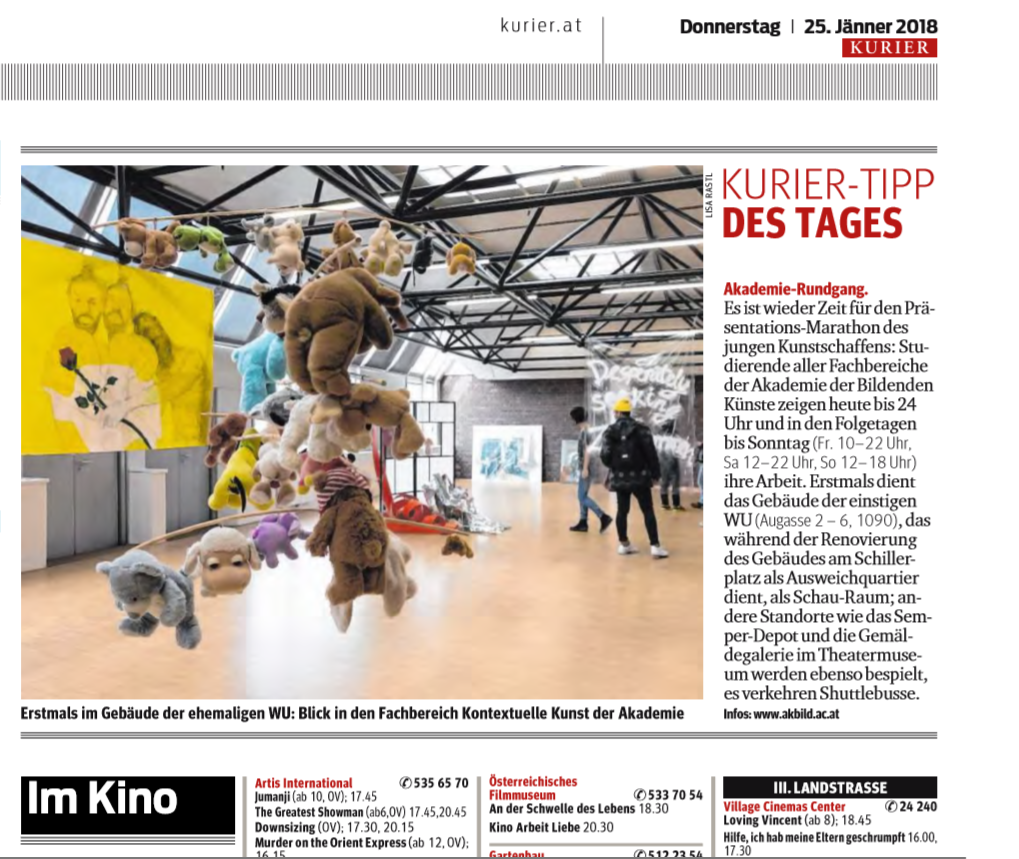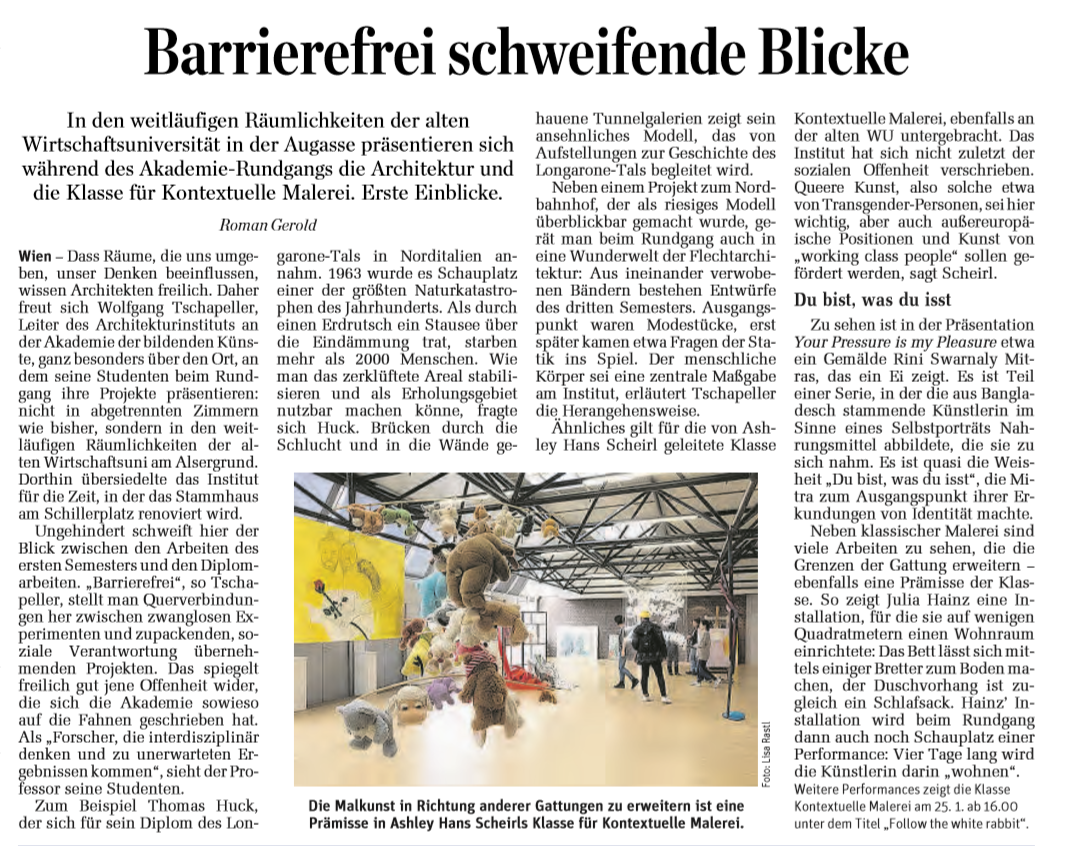 Der Kurier, Thursday, 25.01.2018: KURIER-TIPP DES TAGES
Text without indication, picutre by Lisa Rastl
"Erstmals im Gebäude der ehemaligen WU:
Blick in den Fachbereich Kontextuelle Kunst der Akademie." (text below picture)
……….
Der Standard, Thursday, 25.01.2018: AKADEMIE DER BILDENDEN KÜNSTE WIEN "RUNDGANG" 2018 AN NEUEN STANDORTEN.
BARRIEREFREI SCHWEIFENDE BLICKE
Text by Roman Gerold, picutre by Lisa Rastl
"Die Malkunst in Richtung anderer Gattungen zu erweitern ist eine Prämisse in Ashley Hans Scheirls Klasse für Kontextuelle Malerei." (text below picture)
………..