MUME Festival der Platane
MUME (Museo Mexicano/Mexican Museum) is a nomadic anti-museum by artist Oscar Cueto that seeks to create alternate narratives in the decolonial and global migration context, presenting collaborative projects between international curators and artists in Austria. For this edition, Austrian artist Manuela Picallo Gil will present the "Festival der Platane" at the MUME in collaboration with nine further artists.
The three-day Festival der Platane proposes a paradigm shift in relation to monument culture. In search of a reference point for resistance, protest and peace, the festival aims to orient the current discourse on monuments towards the mighty shade plane tree, whose roots have been anchored in the soil of Vienna's first district at Dr. Karl Lueger Square for more than 100 years.
DAY 1 l May 20
Dr.-Karl-Lueger-Platz & Die Druckstube, Vienna
Workshop with high school students of BORG15: Anti monuments, civil disobedience and risograph printing by Oscar Cueto, Giulio Paolini & Manuela Picallo Gil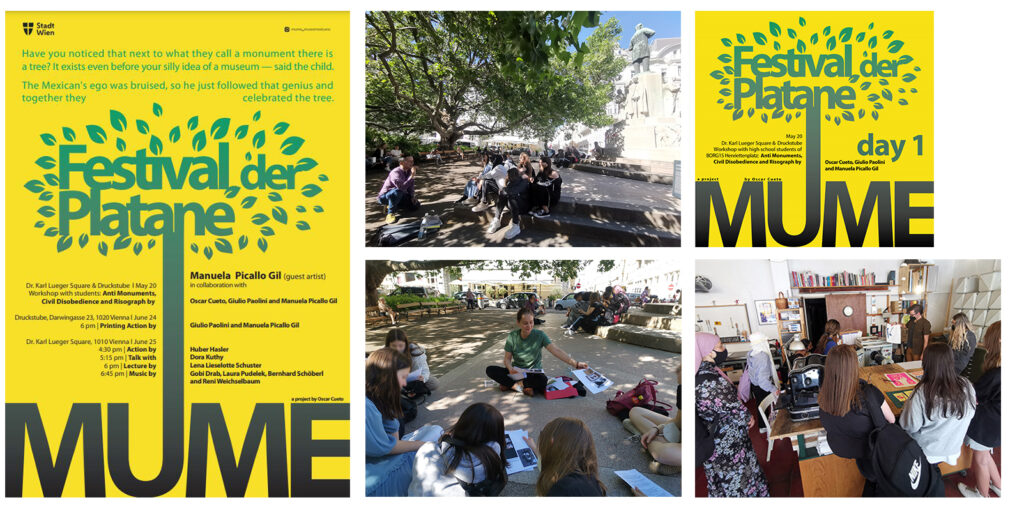 DAY 2 l June 24
Die Druckstube, Darwingasse 23, 1020 Vienna
6:00 pm | Printing Action by Giulio Paolini & Manuela Picallo Gil
Fanzine (german language, digital Version): FANZINE_Platz der Platane_2022_MUME.pdf
DAY 3 l June 25
Dr. Karl Lueger Square, 1010 Vienna
4.30 pm | Action by Hubert Hasler
5:15 pm | Talk with Dora Kuthy
6:00 pm | Lecture by Lena Lieselotte Schuster
6:45 pm | Music by Gobi Drab, Laura Pudelek, Bernhard Schoeberl and Reni Weichselbaum