upcoming exhibitions and projects
duo exhibition of
Sanae Arraqas and Manuela Picallo Gil
Mind the Gap!
opening: Appointment will be announced as soon as possible
philomena+ project room, Heinestraße 40, 1020 Vienna
With the warning phrase "Mind the Gap", the artists refer to two areas of their interest, public transport and cause study of social imbalances.
Sanae Arraqas' painterly paper works, for example, show the alienation of the individual in the context of the growing pace of everyday life. Technical acceleration in the area of (mass) mobility but also in the digital sector causes spatial and social distance between people.
Social gaps also arise from biased news reporting. According to Manuela Picallo Gil, tabloid papers, often distributed free of charge at public transport stops, play a major role in shaping public opinion and greatly influence the intellectual life and actions of our time. For some time now, she has chosen this free print medium in question as the starting material for her artistic practice. 
………………………………..
recent exhibitions
The field of exhibitors was deliberately kept small in order to enable an intensive exchange with the visitors. The carefully selected publications of the
1st EDITONALE Vienna come from different countries. You can see Unique drawing books and text in mixed media by artist Tone Fink or artist Setsuko Fukushima, Illone Kiss and ERGO PERS. The german organizers are hoping for new synergies from Vienna and invited a selection of artists living in Vienna.
On the occasion of the 1st EDITIONALE Vienna, Manuela Picallo Gil presents the book Chronicles of My Time – Top on Instagram 2019. The print version shows collection of 2019, focused on the page 3 with the Top-Instagram-pictures of the austrian Heute-newspapers with handwritten texts.
Universität für angewandte Kunst Wien
Vordere Zollamtsstraße 7, Flux 1 und 2 (2. und 3. OG), 1030 Wien
………………………………..
WE DON´T TALK ABOUT SUSI. 
The INSEL Retz celebrates its second Ein-Jahr-Insel-Fest after many exhibitions, concerts, film- and theater evenings and more. A lively exchange and discussions made a pleasant atmosphere in the rustic rooms of the INSEL. The exhibition We don´t talk about Susi. by Manuela Picallo Gil and Maja Osojnik's concert open the third year of the INSEL.
The exhibitions shows the installation faded out lll – XL, which invites visitors to participate: touching to cuddling with the XL plush toys is welcome. The visitors can hear an instrumental sound with the headphones, with reference to the different levels of meaning within the art work.
The multi-layered work speaks about topics related to body, taboo, gender/sex, identity and acceptance. The action Escribana also trys to show different perspectives and ask some questions..
artist: Manuela Picallo Gil
musician: Maja Osojnik
contact and info: Veronika Humpel & Wolfgang Seierl
Closing on Samstag, 3. February 2020 at 7 pm
open hours from 19.01. – 01.02., 7 – 9 pm by appointment contact verwolf@inselretz.com
location: INSEL, Klostergasse 3, 2070 Retz in Upperaustria
……………………………..……………..
The group exhibition pubishing shit. has the same titel like a book, which is expected to be published in autumn 2020. It is based on the concept of Tomash Schoiswohl. He curated the exhibition praktisch scheiße (engl.: practically shit). Different positions were shown and art mediations and lectures offered in the art space Kulturtankstelle in Linz in 2018. In the exhibition pubishing shit.  aesthetic theories on the topic of disgust and loathing, everyday experiences with shit and regulatory policies are again developed. Artists were invited to deal with questions about the cleanliness, order and pollution of our society.
During the exhibition praktisch scheiße Manuela Picallo Gil found access to the topic through the linguistic level in connection with media criticism. In this exhibition, she shows three illustrations embedded in an installation as method for display.
artists: see details at: library Akbild
curated by: Tomash Schoiswohl
opening: thursday, december 19th 2019 at 7 pm
duration of exhibition: 20.12.2019 – 15.01.2020
location: Academy of Fine Arts Vienna, mainbuilding, Augasse 2-6, 1090 Vienna, library, reading area, 0.5.1
see as well: https://esel.at/termin/104258/publishing-shit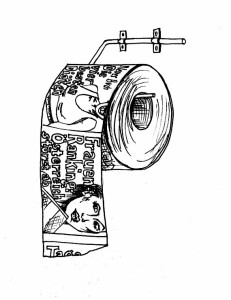 ……………………………..……………..
Any interest in receiving the newsletter, please contact me. I am glad to send it to you via e-mail.
example: https://mailchi.mp/7b8c8f287975/ber-susi-reden-wir-nicht-we-dont-talk-about-susi