upcoming
SAPPERLOT
Friday, May, 24th 2019
exhibitions starts at 6pm, ends at 11pm
Bauernmarkt 24, 1010 Vienna
…………………………………………….
at the moment
MOHNMANIE
19. Mai. bis 7. Juni 2019
in der Notgalerie, Aspern Nord (U2)
Zusammenarbeit mit Oscar Cueto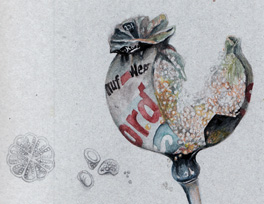 MOHNMANIE refers to an economy in which revenue has replaced ethical principles. Cueto and Picallo Gil question if following unethical procedures are valid in order to reach that economical benefit. This collaborative project does not question the nature of the poppy or the mass media, but an economic system that allows and encourages polarization, social hierarchies and unequal working conditions to keep a clear division between those who produce and consume the good and those who accumulate the profits.
These thoughts are expressed through an in installation, illustrations, a photographic work in public space and a participative action in the exhibition MOHNMANIE.