BEWÄHRUNGSPROBE #40 – Artist* talk
The event series Bewährungsprobe by Johannes Franz-Figeac presents two positions of artists living in Vienna and addresses questions about art production. Under which working conditions and with which material do the respective approaches arise in order to negotiate the world that surrounds us in the field of art?
Manuela Picallo Gil uses multimedia objects and installations to question social categorizations in the field of tension between inclusion and exclusion.
Jakub Vrba's artistic work is mainly composed of drawing, sculpture, video and film. He addresses notions of spectacle, pathos, unpaid labor, and the dictatorship of everyday contingency.
Projekt and Moderation: Johannes Franz-Figeac
Artists: Jakub Vrba and Manuela Picallo Gil
Here you can watch the Bewährungsprobe #40, whitch took place on May 2nd 2022 at 7 pm.
Depot – Kunst und Diskussion, Breite Gasse 3, 1070 Wien
Any interest in receiving the newsletter, please contact me. I am glad to send it to you via e-mail.
…………………………
The installation "Gratis kommt uns teuer" reflects on politics and media in Austria and intervenes within the framework of the Vienna Art Week 2021. The banner series predominantly uses the aesthetics of the oe24 daily newspaper through visually designed cutouts of the front pages. The use of bold colors aims to generate attention. Fictitious headlines thematize the Austrian tabloid press itself and its connection with politics.
Location
House of Losing Control, Nordwestbanhstraße 53
1200 Vienna (Entrance: Heistergasse 4-6)

Exhibition Days
13. – 19.11.2021
Sat 12 am – 8 pm
Sun-Fri 2 pm – 7 pm

Please follow the current COVID-19 restrictions
supported by
…………………………
GRATIS KOMMT UNS TEUER – INTERVENTION @ 12-14 contemporary
The intervention GRATIS KOMMT UNS TEUER at the art space 12-14 contemporary addresses "the relationship between politics and media [in Austria] as a symbiosis – as a toxic dependency."* The art work GRATIS KOMMT UNS TEUER by Manuela Picallo Gil confronts viewers and readers of tabloids. The two banners "One hand washes the other" and "Friends through thick and thick" criticize these problematic conditions in this country
with image and text.

exhibition from: 16/10 – 17/10/2021
artist is present: Sa 10 am – 2 p.m.
location: in the window of 12-14 contemporary, Schleifmühlgasse 12-14, Vienna


* Arte.tv (2021): Österreich: Regierungswerbung in der Presse

unterstützt von/ supported by

…………………………
WORKSHOP
— english text – see bolow —
DENK'MAL MONUMENTO
Reflexionaremos sobre la idea de un monumento que tiende un puente desde México hasta Austria.
En Austria, como en todo el mundo aun permanecen monumentos al heroismo, pero también a la infamia. En el taller » "DENK´MAL MONUMENTO" reflexionaremos sobre nuestra cultura de la memoria y las nuevas formas de expresión. Se invita a los participantes a concebir y aplicar formas contemporáneas de memoria y memoriales. El objetivo práctico será erigir monumentos a los movimientos de cambio social que defienden los derechos de las personas, se manifiestan, se organizan y se unen en una lucha que es esencial para la emancipación de las personas en nuestro mundo global.
–> Viernes 1 y sábado 2 de octubre de 2021. Taller en línea con debate y tiempo para la aplicación práctica, de 10 am a 2 pm horas con los participantes. Estoy deseando asistir al taller y trabajar con vosotros.
DENK'MAL MONUMENTO
We will reflect on the idea of a monument that builds a bridge from Mexico to Austria. In Austria, as all over the world, there are still monuments to heroism, but also to infamy. In the workshop "DENK´MAL MONUMENTO" we will reflect on our culture of memory and new forms of expression. Participants are invited to conceive and implement contemporary forms of memory and memorials. The practical objective will be to erect monuments to movements for social change that defend people's rights, demonstrate, organize and unite in a struggle that is essential for the emancipation of people in our global world.

–> Friday, Oct. 1 & Saturday Oct. 2, 2021, digital workshop with conversation and time for practical implementation, from 5 – 9 pm (european time) with participants. I am looking forward to the workshop and to a collaboration!
languages/idioma/Sprache: english
desigño/design: @alberto_fiocco
THANK YOU to @error.proyecto, Fundación Jumex Arte Contemporáneo, Embajada de Austria México – foro cultural de austria
…………………………

Peace must be worked for and in many cases fought for, because is not a matter of course, but requires a personal confrontation and needs the common conversation, especially the daily action. The FriedensBim uses the public space in Vienna to ask questions in a means of transport of the Wiener Linien and now also at Karlsplatz, where different people meet. It creates opportunities to open a "multi-layered dialogue among and with each other as a central means of peaceful coexistence" (FriedensBim). Artistic works, music, lectures and workshops offer different approaches to the question how peace can be defined and what we need to reache it. Among the positions are artistic works that question, criticize and provoke a discourse, as does the banner series GRATIS KOMMT UNS TEUER by Manuela Picallo Gil.
FriedensBim/ peaceTram
goes on Sunday, 26.9.2021 from 3 – 7 pm and starts at 3 pm at the Oper/Hotel Bristol

Stops, Vienna
Oper, Burgring, Volkstheater, Rathausplatz/Burgtheater, Schottentor, Börse, Schottenring, Schwedenplatz, Stubentor, Schwarzenbergplatz, Karlsplatz
Stage at Karlsplatz, Vienna
Sunday, 26.9.2021 from 3 – 7 pm

fine arts/music/talks/lectures
Christoph P. Thomas Mann l Gerhard Zoubek l Gründer Adamah Biohof l Helga Scheichelbauer l Georg Hamann l Alexandra Tatar l Clara Boesl l Dora Kuthy l Ana Paola Castrov Villegas l Adriana López l Anna Netouschek l Hannah Lex l KunstModeDesign Herbststrasse l Kenyongasse l Christine Gobbi l Cornelia Kolmann l Nina Geschl l Alfred Rottensteiner l Dora Kuthy l Martina Mahdavi l Margareta Klose l Clara Boesl l Stefan Frankenberger l Soulparlez l Grant l Pyrite l Samura Loré l Manuela Picallo Gil
…………………………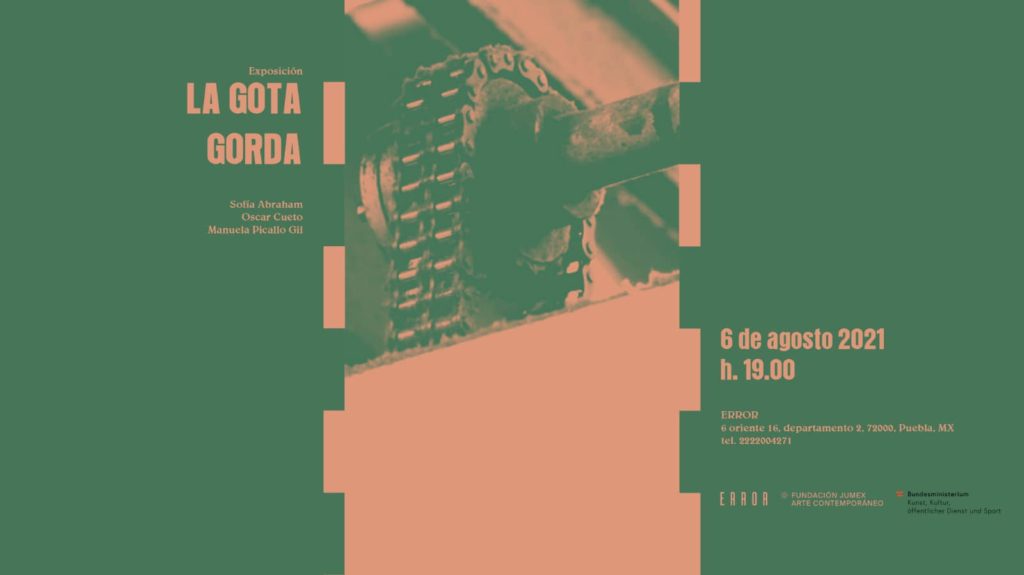 ¡LA GOTA GORDA at ERROR in Puebla, Mexico!
Nina Fiocco curates the exhibition with artists Sofía Abraham, Oscar Cueto and Manuela Picallo Gil. The exhibition takes place on Friday, August 6th, 7 pm.
¡LA GOTA GORDA en Error Puebla, México!
Curada por Nina Fiocco, con los artistas Sofía Abraham, Oscar Cueto y Manuela Picallo Gil. El exposiciónes es el viernes 6 de agosto a las 19.00 horas.
supported by/apoyado por Fundación JUMEX y and/y BKA Österreich
Design by/de Alberto Fiocco
…………………………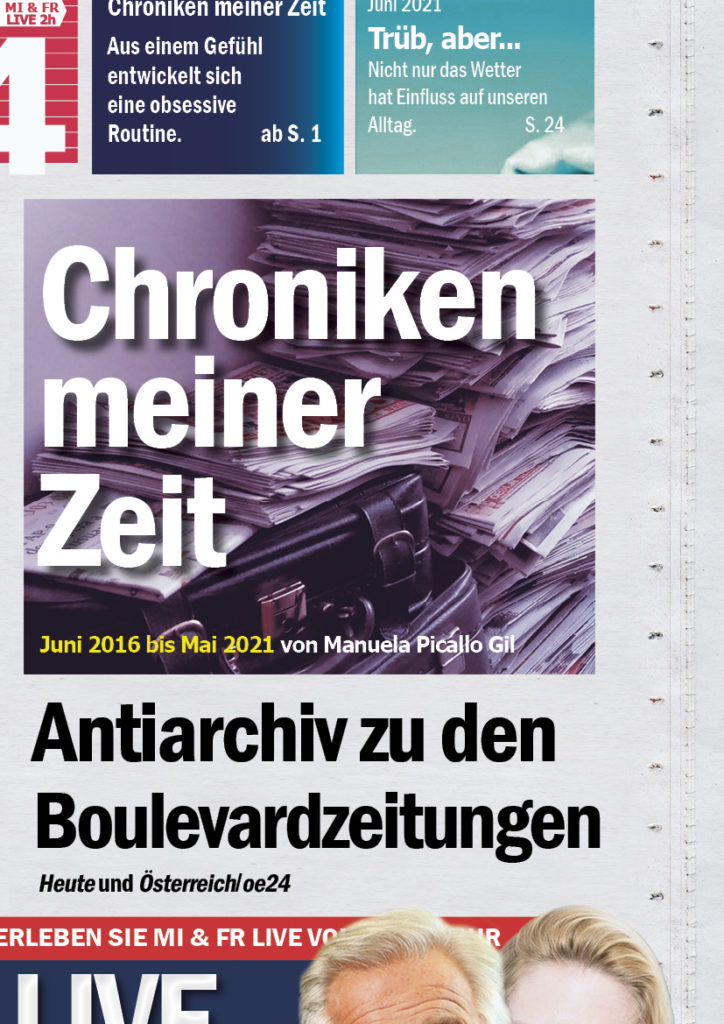 Over the years, a collection of the tabloids Heute and Österreich/oe24 grew up. The free newspapers are arranged chronologically and bounded per month. Missing newspapers are replaced by blank sheets of paper, providing space for thoughts, research and narratives in the form of handwritten texts and illustrations.
The daily exploration is a constant attempt to understand both myself and my surroundings. As the documentation of these two questionable newspapers becomes my diary, voids fill in, I recognize my own fears, struggles, desires, principles, and prejudices. When media reflects our society, I don't like this reflection and it remains my daily motivation to be part of a change.
CHRONIKEN MEINER ZEIT-opening hours: Wed – Fr from 4 – 6 pm
Access to the chronicles is Wednesdays and Fridays from 4 – 6 pm. Readers are invited to express themselves acoustically, to become part of the anti-archive with their voice and to contribute their own thoughts in an open narrative. Outside of these hours during the exhibition time, two view books are available to the visitors and headphones to listen to the previous visitors' comments.
…………………………
If you are interested in receiving the newsletter, please contact me by e-mail contact@manuelapicallogil.com and I am gladly send it to you.
…………………………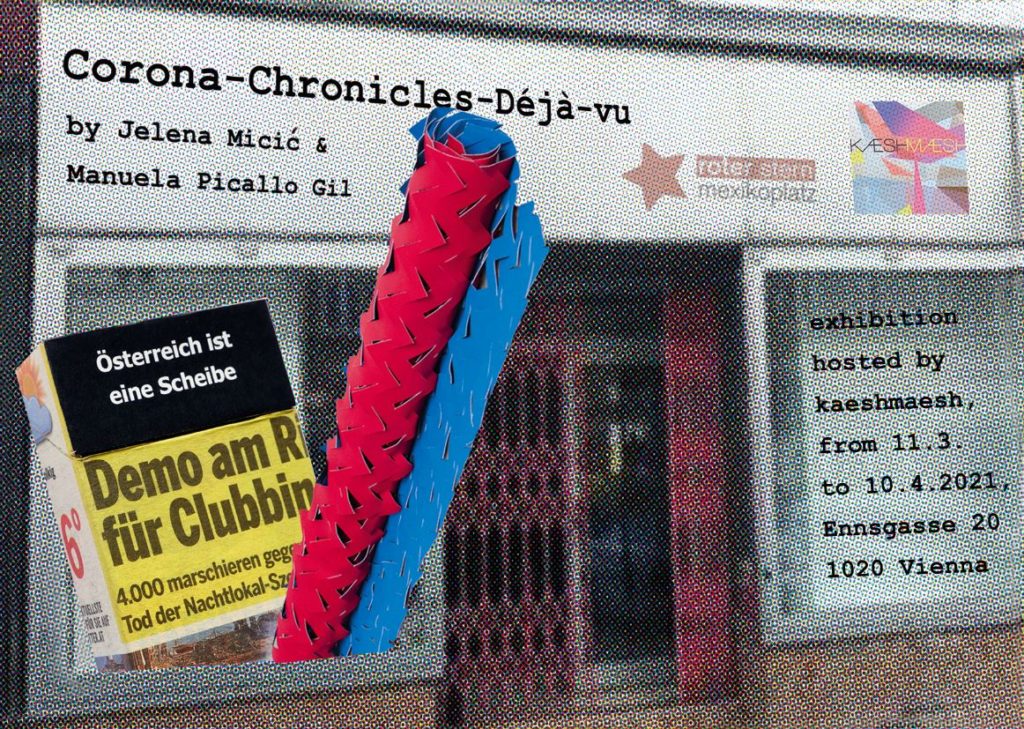 Window Show: From today 6 – 8 pm Strolling in the Ennsgasse with Jelena Micić and Manuela Picallo Gil – hosted by Kaeshmaesh.
In 2020, the independent arts scene was hit hard by the Corona crisis. Nevertheless, cultural education has immeasurable value. The cultural association KAESHMAESH has therefore set itself the goal of making art accessible to all without hurdles, even in times of pandemic. The focus is on intercultural dialogue in order to also give visibility and empowerment to diverse marginalized positions.
From 2016-2019, KAESHMAESH was at home at Ennsgasse 20 in Leopoldstadt, and since January 2020 has been operating online and offline as a nomadic curatorial collective. During Lockdowns 2020, the exhibition series Corona-Chronicles and Corona-Chronicles: Déjà-Vu were shown on Instagram and Facebook. These featured artists* who provided virtual glimpses into their creative process in isolation. In 2021, the online exhibitions will also be shown offline.
The first of these will be Jelena Micić and Manuela Picallo Gil at Roter Stern in Ennsgasse 20, who both deal with the transformation of form and material in their works.
In her Cut Paintings, Jelena Micić transforms the canvas as the material of painting into mat-like structures painted monochrome on both sides. The jagged cut-outs allow the canvases to be folded and shaped, alienating them from their original form and function. They could be read as a metaphor for our life during Corona, which is still made of the same essence, but which appears in a different form.
Manuela Picallo Gil creates her designs for cigarette boxes with newsprint taken from the free sheets Heute and Österreich. The warnings are replaced by lurid headlines. On the one hand, this could be read as a commentary on the media omnipresence of the pandemic. On the other hand, almost everything changed turbulently during Corona. When one can no longer hold on to the mundane, cigarettes and subway free newspapers often provide the comfort of habit.
Text: Kaeshmaesh
…………………………
Newspaper Rolls, Hole Newspapers & Artist Talk
Thanks to Helga Schwarzwald, Managing Director of Verband Freier Rundfunk Österreich for the invitation to exhibit in the window display and the talk: Media Criticism with Artistic Means: A conversation with Manuela Picallo Gil
Thanks as well to the participants and DORFTV for publishing the talk on their website: Join here to watch the recording.
In its work on media policy, as well as in media literacy education, the Verband Freier Rundfunk Österreich (Association of Free Radio Austria) repeatedly tries to address the negative consequences of stereotyping, emotional exaggeration and clickbaiting by the media. In doing so, it is important to emphasize the real effects on social interaction and on the quality of public discourse. In campaigns, discussions and statements they often do not manage to do this in such a catchy and vivid way as the visual artist Manuela Picallo Gil succeeds in doing with her works.
For this reason Verband Freier Rundfunk Österreich invited guests to join the conversation between Helga Schwarzwald and Manuela Picallo Gil via ZOOM to find out about her art works, the content and media-critical motivations. Helga Schwarzwald added the context of the media-political reality in Austria.
Manuela Picallo Gil herself writes: "My media-critical works focus on the tabloid media oe24/Austria and Heute in order to confront their viewers with how they use the freedom of the press. Media play a fundamental role in shaping people's opinions, decisively influencing the intellectual life as well as the actions of their time. The contents conveyed, the terms used as well as the visual material generate feelings, have an effect on topics of conversation as well as convictions and shape the cultural epoch. A call for the population to question the free newspapers and – more recently – their online publications, I feel is essential. Because if newspapers reflect our society, we should ask ourselves if we want to live in such a society where xenophobia and sexism are part of everyday life."
Text: Helga Schwarzwald, Managing Director of Verband Freier Rundfunk Österreich
…………………………
recent exhibitions and projects
MIND THE GAP
duo exhibition with Sanae Arraqas,
curated by Christine Bruckbauer
opening: 20. August 2020, at 7 pm
place: philomena+ project room, Heinestraße 40, 1020 Vienna
closing and artists´talk: 11. September 2020, at 6 pm
Moderatorin: Janine Maria Schneider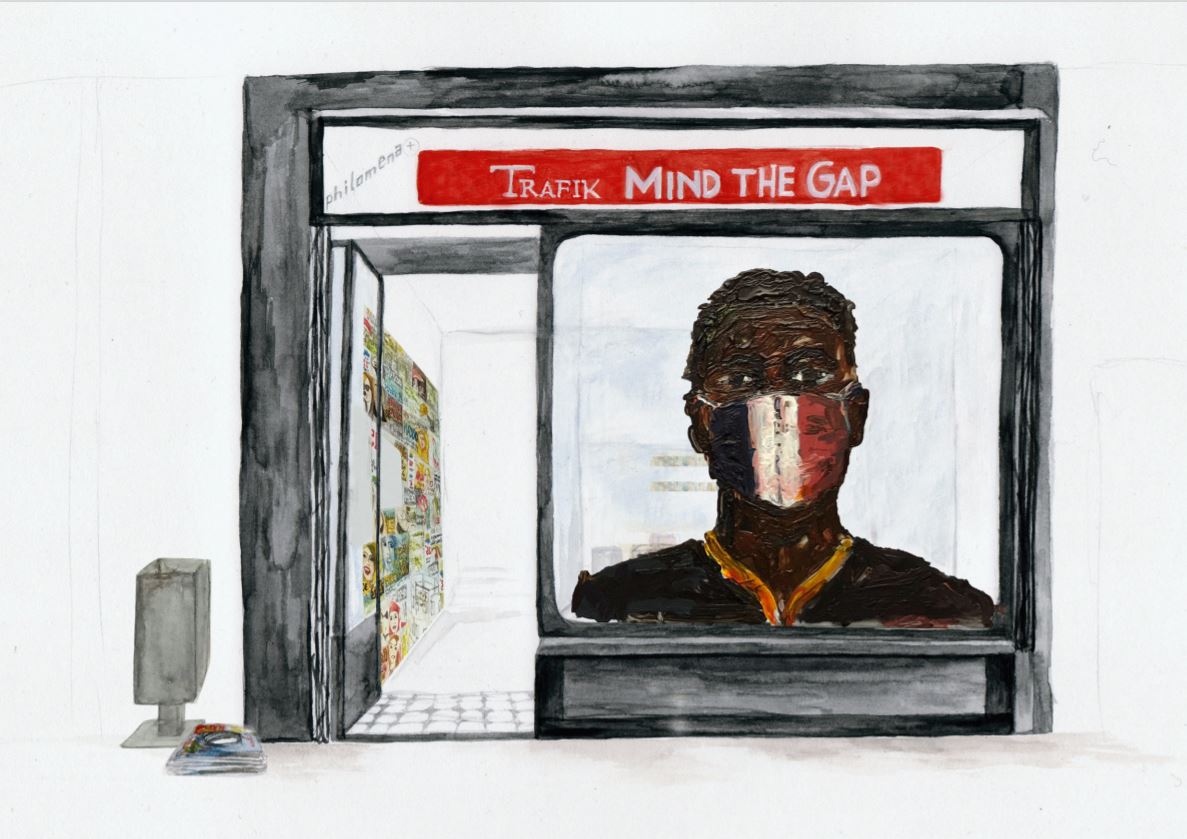 Keeping distance, we have learned in the last few months, can save lives. With the warning "Mind the Gap" the artists intend to point out the danger that arises when the discrepancy between each other becomes too big.
According to Manuela Picallo Gil social gaps arise for example from biased news reporting. Tabloid papers, often distributed free of charge at public transport stops, play a major role in shaping public opinion and greatly influence the intellectual life and actions of our time. For some time now, she has chosen this free print medium in question as the starting material for her artistic practice.
Sanae Arraqas' painterly paper works show the alienation of the individual in the context of the growing pace and digitalisation of everyday life. Her involuntary confinement in Côte d'Ivoire during the last three months resulted in the personal experience of another crucial aspect of the subject: the question of the right of self-determination, which is above all prevented by deadlocked white-suprematist, market-economy dependency relationships and hinders the emancipation of former colonial countries.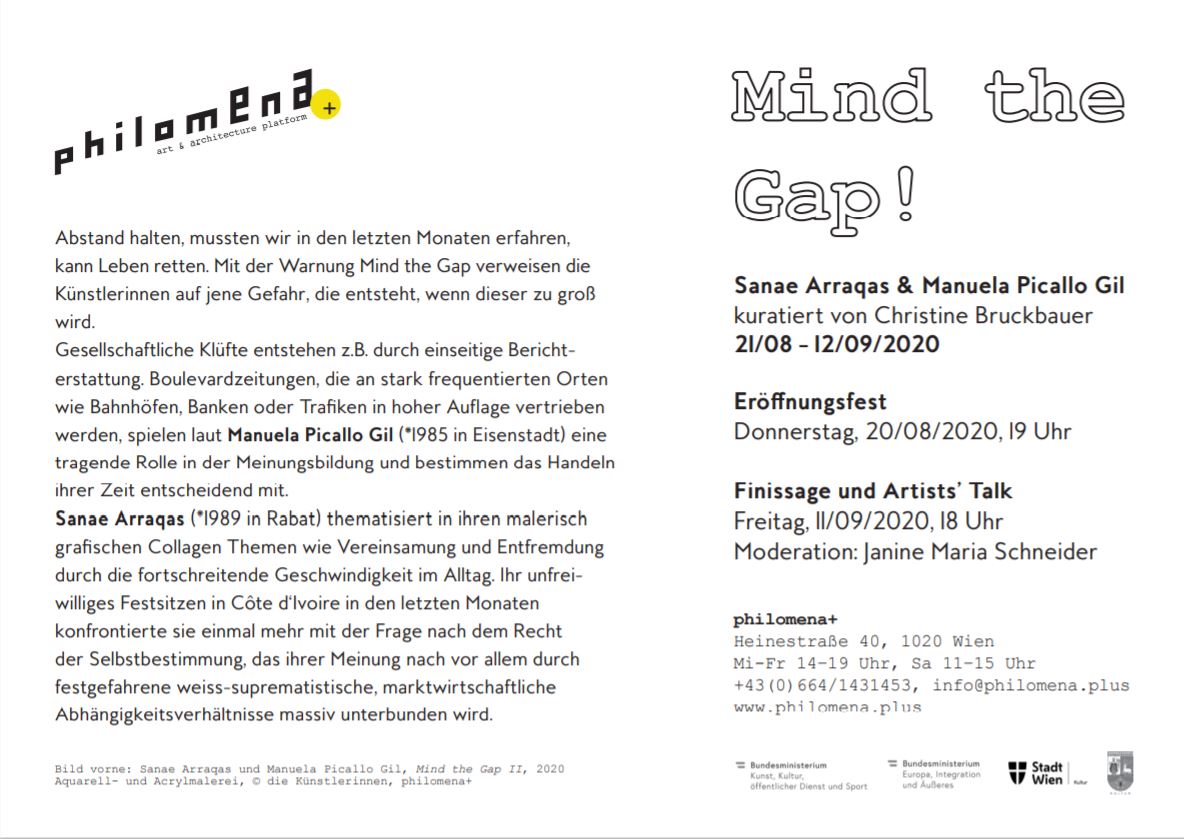 ………………………………..
#7 Fit'ri:na فترينة – Sanae Arraqas & Manuela Picallo Gil
Preview Mind the Gap
Installation and Slide Show
13/08 – 19/08/2020
The last episode of the Fit'ri:na فترينة festival, which started in spring, offers an insight into the development process of the residency and exhibition project MIND THE GAP (21/08 – 12/09/2020) by Sanae Arraqas and Manuela Picallo Gil. The exhibition, originally planned for March 2020, is now presented with a revised concept, referring to the experiences of the artists during the Corona shutdown in Abidjan, Marrakech and Vienna.
As part of the Fit'ri:na فترينة festival, they will present watercoloured design drawings, photographs and objects in the philomena+ showcase, giving passers-by a taste of the upcoming exhibition.
Fit'ri:na فترينة
curated by Christine Bruckbauer and Aline Lenzhofer
A festival behind glass as a reaction to the oppressive situation during the Corona standstill.
From 13 August the works can be viewed in the shop window of
philomena+ project room, Heinestraße 40, 1020 Wien
………
Friday, 14. August, 6 pm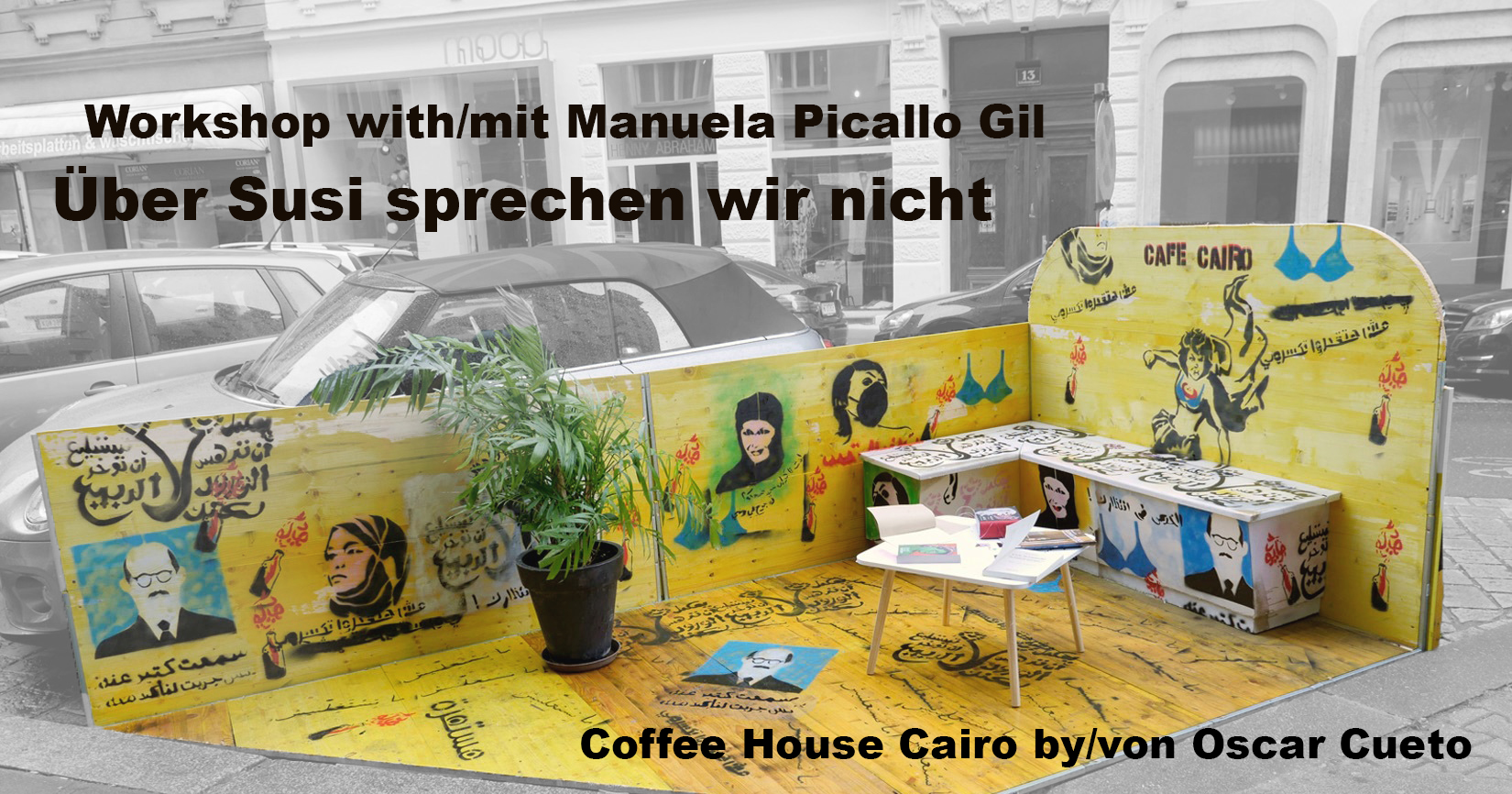 workshop: Über Susi sprechen wir nicht./ We don´t talk about Susi.
with Manuela Picallo Gil (german + english)
All areas of our society are shaped by gender and thus by in-depth ideas. In the workshop We don´t talk about Susi we will consider which parts make up gender constructions. Examples from everyday life as well as artistic works invite the participants to take part in the discourse. In addition to raising awareness, the workshop aims to promote networking and exchange and is open to all interested parties.
Registration is requested: contact@manuelapicallogil.com
Date and time:
Friday, august 14th at 6 pm
Place:
Coffee House Cairo, 12-14 Contemporary
Schleifmühlgasse 12-14
A-1040 Vienna
gallery@12-14.org
Tel +43 6767354910
………
The field of exhibitors was deliberately kept small in order to enable an intensive exchange with the visitors. The carefully selected publications of the
1st EDITONALE Vienna come from different countries. You can see Unique drawing books and text in mixed media by artist Tone Fink or artist Setsuko Fukushima, Illone Kiss and ERGO PERS. The german organizers are hoping for new synergies from Vienna and invited a selection of artists living in Vienna.
On the occasion of the 1st EDITIONALE Vienna, Manuela Picallo Gil presents the book Chronicles of My Time – Top on Instagram 2019. The print version shows collection of 2019, focused on the page 3 with the Top-Instagram-pictures of the austrian Heute-newspapers with handwritten texts.
Universität for applied Arts Wien
Vordere Zollamtsstraße 7, Flux 1 und 2 (2. und 3. OG), 1030 Wien
………………………………..
WE DON´T TALK ABOUT SUSI.
The INSEL Retz celebrates its second Ein-Jahr-Insel-Fest after many exhibitions, concerts, film- and theater evenings and more. A lively exchange and discussions made a pleasant atmosphere in the rustic rooms of the INSEL. The exhibition We don´t talk about Susi. by Manuela Picallo Gil and Maja Osojnik's concert open the third year of the INSEL.
The exhibitions shows the installation faded out lll – XL, which invites visitors to participate: touching to cuddling with the XL plush toys is welcome. The visitors can hear an instrumental sound with the headphones, with reference to the different levels of meaning within the art work.
The multi-layered work speaks about topics related to body, taboo, gender/sex, identity and acceptance. The action Escribana also trys to show different perspectives and ask some questions..
artist: Manuela Picallo Gil
musician: Maja Osojnik
contact and info: Veronika Humpel & Wolfgang Seierl
Closing on Samstag, 3. February 2020 at 7 pm
open hours from 19.01. – 01.02., 7 – 9 pm by appointment contact verwolf@inselretz.com
location: INSEL, Klostergasse 3, 2070 Retz in Upperaustria
……………………………..……………..
Any interest in receiving the newsletter, please contact me. I am glad to send it to you via e-mail.
example: https://mailchi.mp/7b8c8f287975/ber-susi-reden-wir-nicht-we-dont-talk-about-susi